AUTONOMOUS TAXI SERVICE
This is an interface design of a mobile application for passengers who use an autonomous taxi service.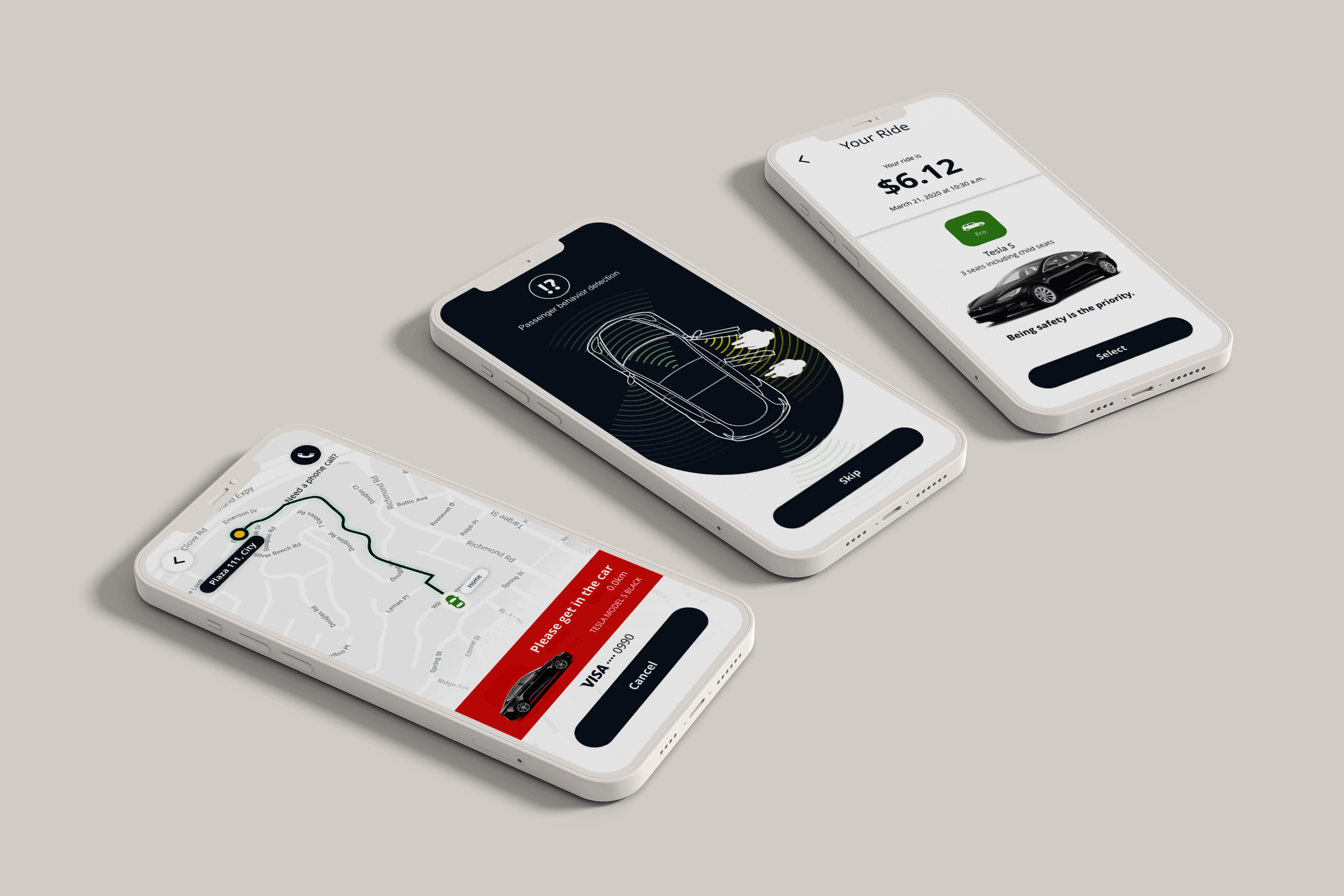 Discover
We discovered some couple of problems between taxi markets and taxi application services.
As autonomous-vehicle technologies advance, conventional taxi and car-sharing services are being combined into a shared autonomous vehicle service, and through this, it is expected that the transition to a new paradigm of shared mobility will begin.
Similar to conventional automobile companies and IT companies, car-sharing service providers such as Uber and Lyft are accelerating the commercialization of autonomous vehicles.
Such advancement of autonomous driving technology is expected to transform the current transportation system into a shared mobility system and give rise to various types of business models and services. Conventional taxis and car-sharing services will be combined into a shared autonomous vehicle (SAV) service.
Before we start the service design, we discovered differences between autonomous taxis and manned taxis through a customer journey map and touchpoints.
Below image shows the customer journey map and touchpoints of a manned taxi and an autonomous taxi, respectively.
The touchpoints for the manned taxi involve the passenger and taxi driver, whereas those for the autonomous taxi were obtained by considering that the taxi driver is replaced by the automated process.
Through the touchpoint design, the issue points that should be considered in the changes to autonomous taxis were obtained. Brainstorming was performed for the possible scenarios that can occur at each issue point, and Table 1 summarizes the major scenarios.
These factors should be taken into consideration in detailed service design.

As well as we found some potential issues to be discussed when designing services for driverless taxis.
First, there is always the issue of safety. Even if technology advances, the successful market establishment of SAV services depends on customers' perception of their safety (Tussyadiah, Zach, & Wang, 2017). Moreover, a legal system supported by an ethical agreement that clarifies the responsible parties in case of an accident and a clear claims procedure is needed, but the social costs to reach such a consensus may be high.
Second, there are environmental issues. If the vehicles use conventional engines, there are debates on whether autonomous vehicles are indeed environmentally friendly. Development of autonomous vehicles may increase the number of vehicles without drivers, which can in effect emit more gas compared to other means of mass transit.
Third, transportation infrastructure such as ones in smart cities ought to be established beforehand for the services to be provided stably.
Fourth, Since autonomous vehicles go without drivers, there is a difficulty of engaging in maintenance in case of unexpected breakdowns or maintaining the cleanliness of vehicles.

Define
Below is a persona for designing the service and expecting potential targets.