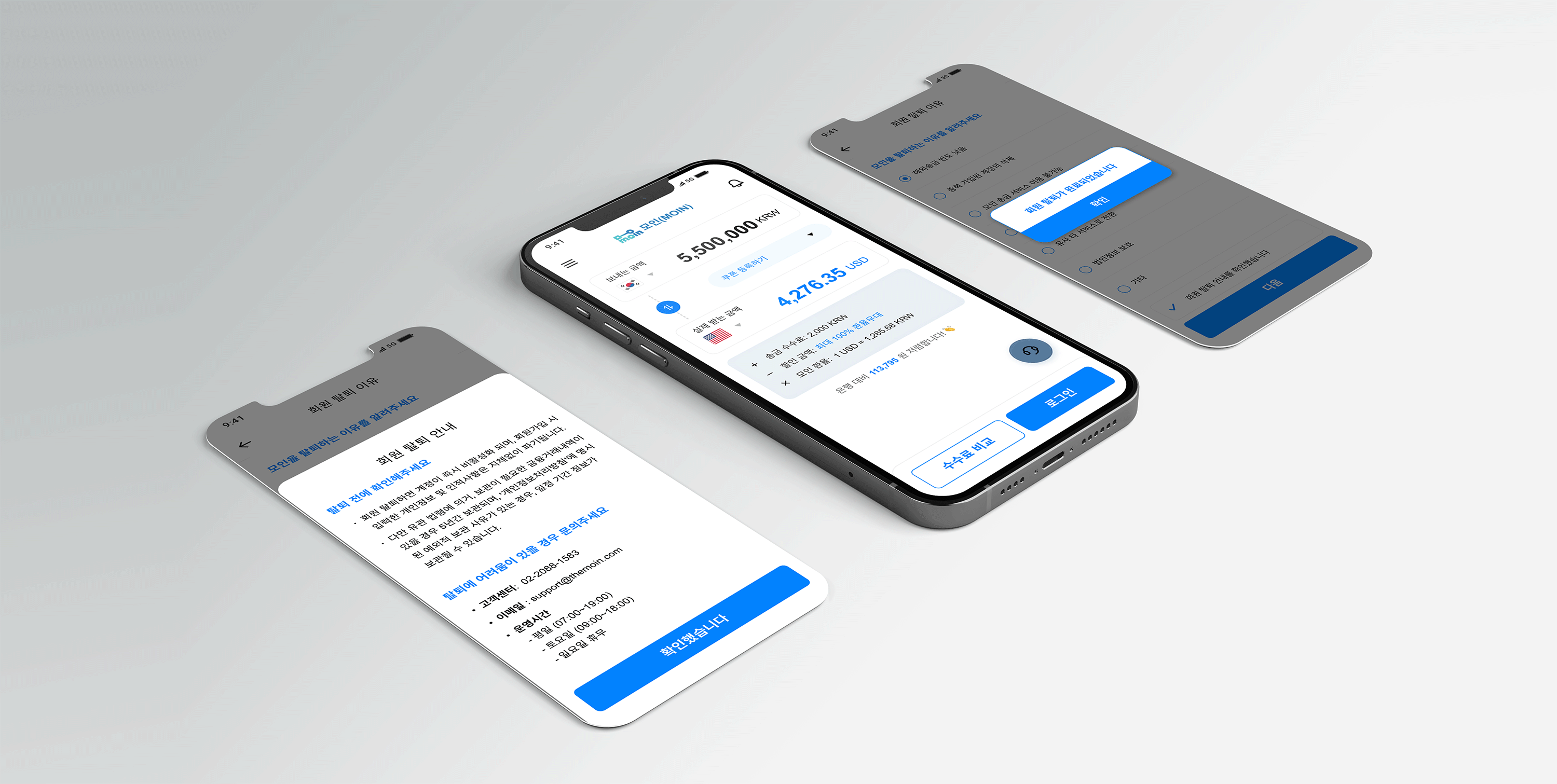 According to the latest policy of APPLE that has been changed which is an account deletion function, I worked on UX/UI design for a mobile product for a month as my first work at MOIN. Below is an article that is from the Apple website.
Please keep these requirements in mind when updating your app:
The account deletion option should be easy to find in your app.
계정 삭제 옵션은 앱에서 쉽게 찾을 수 있어야 합니다.

It's insufficient to only provide the ability to temporarily disable or deactivate an account. People should be able to delete the account along with their personal data
계정을 일시적으로 비활성화하거나 비활성화하는 기능만 제공하는 것만으로는 충분하지 않습니다. 사람들은 개인 데이터와 함께 계정을 삭제할 수 있어야 합니다.

Apps in highly-regulated industries may need to provide additional support flows to confirm and facilitate the account deletion process.
규제가 심한 산업의 앱은 계정 삭제 프로세스를 확인하고 용이하게 하기 위해 추가 지원 흐름을 제공해야 할 수 있습니다.

Follow applicable legal requirements for storing and retaining user account information. This includes complying with local laws in different countries or regions. As always, check with your legal counsel.
사용자 계정 정보를 저장하고 유지하기 위해 해당 법적 요구 사항을 따르십시오. 여기에는 여러 국가 또는 지역의 현지 법률 준수가 포함됩니다. 항상 그렇듯이 법률 고문에게 문의하십시오.
There was not a function of deletion at the mobile application. The function of the account deletion which will be placed, should be divided by user account types.
Corporation account user type that signup by email(Only signup at desktop website)
Personal account user type that signup by email
Personal account user type that signup by an external SNS account
Define
We(designers, software engineeners, service operators, custom experience team) met up for squeezing idea for that then we had visualsation as wireframes.
Corporation account & personal account user type (signup by email) deletion
Personal account user type (signup by an external SNS account) deletion